Prahran's shiny but under-the-radar modern Israeli restaurant Golda closes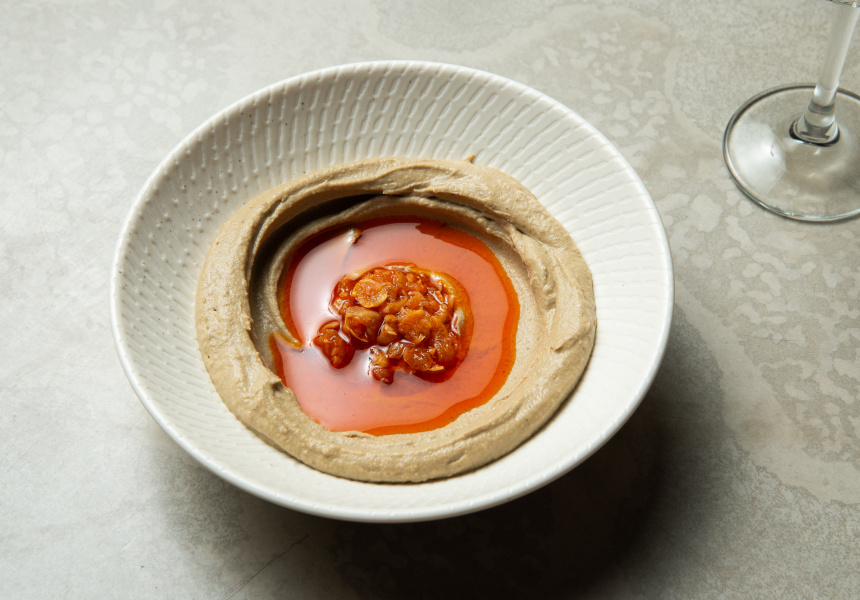 When Rotem Papo cooks a dish like pickled peppers at the Prahran Golda restaurant, where he is chef de cuisine, it's nostalgic. Like waking up after a big Friday night to the smell of your mom burning peppers. "[She] I was cooking for Friday Shabbat dinner, and waking up at noon just to the smells of cooking. These smells and flavors…everything I do now comes from home.
Born and raised in Holon, a small town just outside of Tel Aviv, Papo sees himself, and his food, as a happy confluence of his Israeli homeland, his family's Jewish, Moroccan and Bulgarian backgrounds and experiences in his new home, Melbourne.
But you only have a few weeks left to experience it.
The shiny but under-the-radar modern Israeli restaurant, which started as a pop-up in 2020, is closing on March 19. "After much thought and deliberation, [co-owner] Adam [Faigen] and I have made the difficult decision that Golda cannot afford to continue," Papo said. Large format.
"After the trials and tribulations of six lockdowns, we remained optimistic and fought long and hard, but we cannot continue to do so given the current climate," he continued. "I am honored to have… had the opportunity to help launch modern Israeli cuisine in Melbourne. I hope this cuisine will continue to be represented in its best light.
It's a blow for the city, the suburbs and the entire Golda team. But above all Papo, who – before the announcement – beamed as he spoke to Large format on his food.
It's hard to believe he's not one of those chefs who always knew they wanted to be one.
It wasn't until his mandatory military training in the navy that he discovered how much he loved cooking. On weekends, the ship's cook would leave and Papo and a small crew would shop for groceries and prepare feasts together.
He loved her. Then he realized something: "My life was already about food. I come from a big family, and it was all about food. Every time someone came to the house, my mother cooked and it would never be something small. He always had to be tall. It's something you take for granted. When I got the cooking bug, everything made sense.
When he finished his military service, he was 23 – "so I started late". "I'm really jealous of chefs who knew what they wanted to do when they were 17 and started then. I needed to speed up the process. He landed on his feet at Tel Aviv's best fine dining restaurant Catit (now closed).
At the end of 2011, he moved to Melbourne with just a suitcase, intending to stay for a few months. Two weeks later, he was working at the European. And he then worked as a chef at L'Hôtel Gitan and Bar Lourinha.
But what he put in Golda was food from his house, from his mother, from his grandmothers – Faigen's grandmothers, even – and from all the kitchens he worked in.
"A lot of people say they don't really know what Israeli cuisine is," he says. "I think it's very similar to Australian cuisine – no one knows exactly what it is. Israel, in the same sense as Australia, is a melting pot for a whole host of cultures.
At Golda, Papo says, "I can actually cook it exactly how I want it, without trying to modify it for any other type of cuisine that might fit into it.
The chef's menu, or Golda Experience, is the truest expression of this. Your table will be covered with dishes such as fluffy home-baked laffa bread, outstanding green falafel, and roasted potatoes in schmaltz (melted chicken fat) with Moroccan harissa and dill.
"I don't know what I can say that will be strong enough for people to understand how much love I put into it and how much I care about it," Papo says.
"I live and breathe cooking, and what I do here at Golda is my heart and soul on a plate."
Golda's last service is Saturday, March 19. To book a table in line or by calling (03) 7001 0155.
Golda

162-164 Trade Road, Prahran
Hours:

Wednesday to Saturday from 5:45 p.m. to 10 p.m.