Navy delays newcomers to boot camp a week after recruits test positive for COVID-19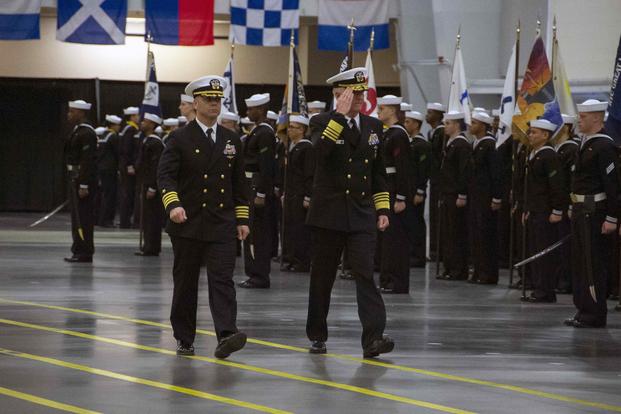 This article by Jeff Schogol originally appeared on Task and objectivea digital news and culture publication dedicated to military issues and veterans.
the Marine will not receive any new recruits in his training camp of Big lakes, Illinois, after a recruit tested positive for the novel coronavirus (COVID-19), said Cmdr. David Hecht, spokesman for the Chief of Naval Personnel.
"No recruits will show up this week," Hecht told Task & Purpose on Monday. "They will be moved to next week, and from there the arrival of recruits will continue as planned."
USNI News editor Sam LaGrone first reported Sunday that a Navy recruit in Great Lakes had tested positive for the coronavirus.
Military health professionals are investigating whether other recruits or personnel came into close contact with the recruit who had the coronavirus, Hecht said Monday.
"The barracks and other areas that the recruit came into contact with are thoroughly cleaned in accordance with the CDC [Centers for Disease Control and Prevention] disinfection and sanitation guidelines," Hecht said.
The news that the Navy is suspending the arrival of new recruits to the Great Lakes came the same day as the Marine Corps announced that it would not receive any new recruits at Parris Island, South Carolina.
All new Navy recruits were asked to restrict their movement for two weeks before being shipped to the Great Lakes, Hecht said. Each recruit will have their health and temperature checked before being shipped to the Great Lakes.
The recruits will then be quarantined in Great Lakes for two weeks before starting their training, he said.
Group sizes will be limited during training and active duty facility personnel will remain on base for at least 30 days to reduce the risk of spreading the coronavirus, he said.
"We try to provide as much of a 'protected bubble' around our recruits and staff as possible," Hecht said.
More articles from Task & Purpose:
Show full article
© Copyright 2022 Task and Purpose. All rights reserved. This material may not be published, broadcast, rewritten or redistributed.